To ensure that the most accurate pricing and delivery costs are displayed while browsing our site, we recommend you to select your country from the list of shipping destinations.
Local VAT will be applied for all EU destinations and the UK.
Most non-EU countries are shipped to on a DDP (Delivery Duty Paid) basis, which means that all relevant import taxes and duties will be included in the product price.
The following countries are shipped to on a DDP (Delivery Duty Paid) basis: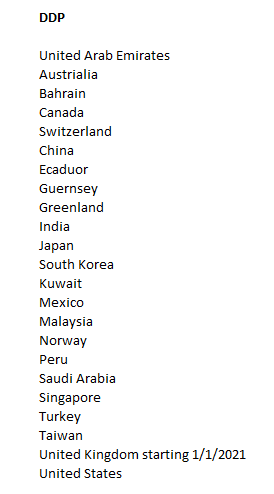 All other countries are DDU (Delivery Duty Unpaid): the indicated price of the products does not include taxes and VAT. The recipient is responsible for all import fees, custom taxes and local taxes imposed by the country where shipment is made. The payment of these taxes is required in order to relieve the order from custom charges.

We cannot predict what the amount to pay for taxes and customs will be, therefore we ask that you check before making an order. Your shipping costs are already included in the total of your final order. In any case, the courier can present you with a separate invoice for the local taxes that need to be paid.

The Russian Federation is a DDU (Delivered Duty Unpaid) destination. To get more information on custom policies, please consult the official website of the Federal Customs Service here.

NOTE
Items shipped to China that are classified as for personal use, the value of which exceed 1000 RMB, are subject to a formal customs clearance procedure. Additional taxes or fees may be charged.